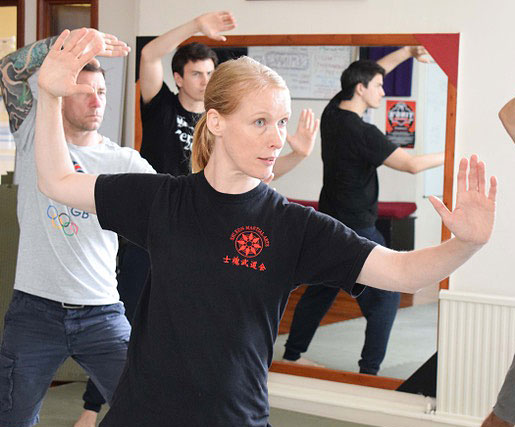 Tai Chi
Would you like to lead a happier and healthier lifestyle? The gentle art of Tai Chi is exactly what you need to calm your mind, strengthen your body and start your journey to a richer & healthier life.
Find out how Tai Chi can help you become calm, stronger and enhance your well-being.
Tai Chi is a form of exercise and moving meditation with its origins in ancient China. It has been practiced for centuries as a therapeutic, healing art as well as an effective Martial Art. Its movements are careful, precise and considered and provide the perfect antidote to the stresses and anxieties of our busy modern lives. You will learn a set of exercises known as Qigong that work on opening and aligning the body's meridians, developing good posture and breathing. These exercises work alongside the Tai Chi Form that makes up the training syllabus.
​Our Tai Chi classes promote:
Good Health
An Aware and Focused Mind
Less Stress and Anxiety
Good Core Strength
Improved Posture and Balance
Confidence, Self-esteem & Self defence
EXERCISE FOR LIFE
Instead of jarring, high-intensity exercises, Tai Chi uses low-impact, slow moving, naturally flowing movements that are done carefully and mindfully. Movements are usually circular in nature and muscles are relaxed during the exercises. Since it is such a gentle flowing exercise, it offers benefits for people at all fitness levels – from young practitioners to older adults to those living with chronic pain.
BEGINNERS WELCOME​
​Our relaxed and friendly classes are based on the Yang style of Tai Chi. The classes follow a carefully structured syllabus that ensures you will be able to develop your skills at your own pace. From your first lesson you will be shown simple exercises and routines that will lead to better balance, posture, increased strength and flexibility and a calmer, more focussed mind.
Testimonials
Daniel and I have been training at Shi Kon for a few years. The dojo is always friendly and welcoming, Mikey and the team are enthusiastic and skilled teachers. They have continued training and coaching through two lockdowns with video classes and calls which have been great at keeping us motivated.
Since being in lockdown having the Shi-Kon platform has helped keep Harleen and Param active and I can see how much progress they have been making mentally and physically with their training. The 1-to-1 video calls have been beneficial as having that contact with Mikey and Caz has maintained their focus.
Since starting Shi Kon and working closely with Mikey and Caz, I can honestly say that the confidence and focus of Liam has changed for the better. Liam has missed the physical aspect of being in the Dojo but the 1-1 calls and online Kung Fu training has really helped him get through the days and feel better in himself. The welcoming, fun and friendly attitude from Mikey & Caz really shines and we are so grateful for all they do.
Sam has been attending Shi Kon Martial Arts for almost 2 1/2 years, he has progressed well and really enjoys his lessons. The lessons are always fun and energetic, all the children enjoy them and it's a pleasure to spectate. Mikey & Caz are very supportive and during lockdown have been doing weekly video calls, assessing and furthering Sam's Martial Arts journey. The Dojo is a warm friendly atmosphere, everyone is family and highly recommended!