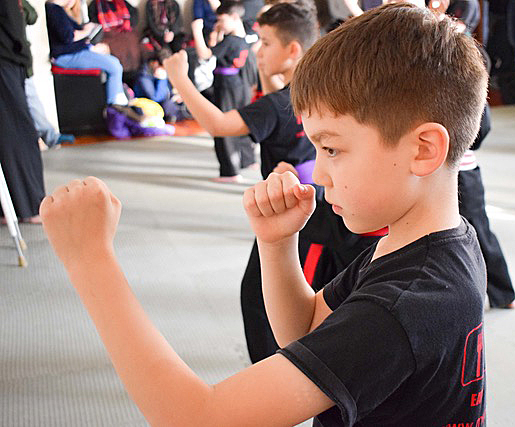 Kung Fu Kids
8-11 years old
These classes are full of fun and lots of energy, while helping our little warriors learn new skills as well as burn off all that excess energy.
These classes are full of fun and lots of energy, while helping our little warriors learn new skills as well as burn off all that excess energy.
Your child will learn the fundamental skills of Martial Arts at our Chatham club. Their practice will both build on the skills that they learn in Years R and 1 in school and will set them up for learning good quality Martial Arts as a life skill.
Within this age group we concentrate on developing good physical skills including:
Coordination
Balance
Fitness
Strength
Agility
Speed
All of these key skills will help your child to succeed at any sport that they take up in the future. Watch any team or individual sport and the children that have mastered these skills are the ones that stand out head and shoulders above their peers.
We also work with children from Chatham and the surrounding areas of Medway, to help them develop their social and life skills with their peers and others. Children learn best through play and fun, so we make sure that they enjoy their classes. They learn important skills such as teamwork, focus, control, manners and discipline in a fun and positive environment – plus they gain the knowledge that hard work and perseverance pay off as they acquire new skills and earn rewards.
Because we split our classes by age, you can be confident that your child is learning Martial Arts skills that are appropriate to both their physical development and their emotional needs.
We have been endorsed by Sport England with their quality Kite mark "Clubmark Accreditation". This means that you can be confident that our classes are safe and properly taught. Most importantly this will reassure you that our coaches are all properly trained, insured and qualified to make your child's introduction to the Martial Arts positive and the best it can be.
Our classes for 4 – 7 year olds are on Monday to Friday and Saturday morning.
Make the right choice for your child. Get them involved in a sport and a club, which will keep them active, healthy and safe for life.
Testimonials
Since starting Shi Kon and working closely with Mikey and Caz, I can honestly say that the confidence and focus of Liam has changed for the better. Liam has missed the physical aspect of being in the Dojo but the 1-1 calls and online Kung Fu training has really helped him get through the days and feel better in himself. The welcoming, fun and friendly attitude from Mikey & Caz really shines and we are so grateful for all they do.
Sam has been attending Shi Kon Martial Arts for almost 2 1/2 years, he has progressed well and really enjoys his lessons. The lessons are always fun and energetic, all the children enjoy them and it's a pleasure to spectate. Mikey & Caz are very supportive and during lockdown have been doing weekly video calls, assessing and furthering Sam's Martial Arts journey. The Dojo is a warm friendly atmosphere, everyone is family and highly recommended!